Tag: Cibeles Madrid Fashion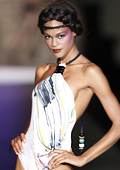 Fashion shows
Fashion and creation are, once again, the main themes of a new edition of CIBELES MADRID FASHION, the great platform for the promotion and dissemination of design in Spain, organised by IFEMA, which is celebrating its fifty-first edition from 18 to 23 February at Feria de Madrid.

On this occasion, the main showcase for Spanish creation involves 51 designers who, with their diverse stylistic proposals, will evidence the creative heterogeneousness of fashion in our country. They will be joined by almost 30 young designers who will be showing their collections in the EL EGO showroom, a space with direct retail sales for the whole time that CIBELES MADRID FASHION WEEK is on.
World fashion
CIBELES MADRID FASHION WEEK, the grand forum for Spanish design stages its fiftieth edition between 18th and 22nd September 2009 at Feria de Madrid.
Over the last twenty-five years, CIBELES MADRID FASHION WEEK, an event organised by IFEMA, has worked ceaselessly to launch and promote the most outstanding designers of the day, thus helping to boost the profile and unity of Spanish fashion as a whole, resulting in the excellent image that it enjoys today. This work has been made possible by the considerable support that Madrid's institutions have provided for the Fashion Show, especially the initiatives undertaken by the Madrid Regional Government.