Tag: Daniela De Marchi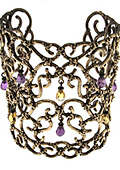 Accessories
The new SHERAZADE line by daniela de marchi is as enchanting as an oriental fairytale where a breathtakingly charming princess is wrapped in the atmosphere of marvellous worlds.

Imagination runs wild in the hot orient, a journey to far away land where seduction mingles with mystery, magic and sensation. Arabesque metal threads tangle with drops of natural stones and give life to a vast collection of rich jewellery, where earrings are the undisputed protagonists.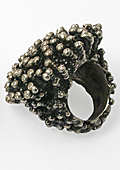 Accessories
Coral, branches, cork, fruit and other natural elements are inexhaustible fonts of inspiration for Daniela De Marchi, from which her refined collection of jewelry takes life.

The unusual initial choice to use silver, bronze and copper permitted Daniela to have total liberty with volume and shapes; with time this transformed into the emblem of contemporary jewelry, sophisticated and mature, now free from the creative/economic restrictions imposed by precious metals.