Tag: Elle Macpherson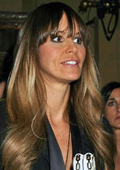 Models and photomodels
The supermodel-turned-designer insists the tag she was given in honour of her curvy figure has helped her get ahead with her business ventures.

She said: "'The Body' is my brand, it's been a wonderful gift. I've used that moniker to my advantage and I'm incredibly grateful for the people who still perpetuate it."

The Australian beauty also credited her nationality for giving her the characteristics needed to succeed with her underwear line.