Tag: Gabrielle
Competitions & awards
People Magazine publishes a list of the most beautiful women in the world every year. Find out who famous show business women are part of 2015's list.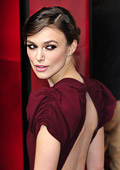 Fragrances
Chanel are finalising the release of their new Coco Noir scent, the third made in homage to designer Gabrielle 'Coco' Chanel.

The fragrance is intended to focus on the interplay between light and dark and the luminosity of black and Baroque elements.

The scent is a "luminous, transparent oriental," according to Christopher Sheldrake, perfumer for Chanel, and it has been developed by the company's master perfumer, Jacques Polge.