Tag: Indonesian designer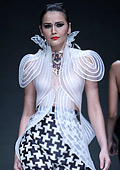 Fashion shows
Jakarta Fashion Week (JFW) 2013 takes place at Fashion Tent, Plaza Senayan, from 3 to 9 November 2012. With the theme "Indonesia Today, The World Tomorrow", this largest fashion event in Indonesia began with the collections of Lie Sang Bong, a Korean designer and the Indonesian designer Sebastian Gunawan.

In the first section, Lie Sang Bong, the Paris-based-designer, launched his collection inspired by butterflies. His couture designs were presented in irresistible palettes from blue, red, orange to green.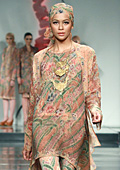 Fashion shows
Jakarta Fashion & Food Festival is back for the 9th time at Sentra Kelapa Gading area on May 12-27 2012. This year's theme is INNOFASHION, a mix of two words Innovation and Fashion, an interpretation of national culture richness in the fashion and culinary industry with the touch of latest trend.