Tag: Jean-Paul Gaultier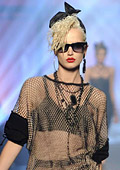 World fashion
Jean-Paul Gaultier feted the pop and style icons of the 1980s yesterday at Paris Fashion Week with a joyful collection for Spring/Summer 2013.

From Madonna to Michael Jackson, Grace Jones to Sade - he said that they have influenced "his fashion". "Just because there's an economic crisis, doesn't mean we all have to act all miserable, and show depressing clothes," the designer joked with reporters after the show. "Why should it all be about minimalism? There's room for joy as well."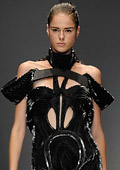 Business news
Taking a look at the schedule of designers and brands, presenting their collections at Paris Fashion Week, you can see that foreign names prevail. About 25% are the real French designers and brands, such as Balenciaga, Balmain, Sonia Rykiel, Jean-Paul Gaultier, Yves Saint Laurent, Hermes, Agnes B. etc. There are many Italian and Belgian designers and fashion houses that show their collections in Paris and among the other presented countries are Great Britain, USA, Spain, Portugal, Denmark, Germany, China, Japan, Singapore, India, Brazil...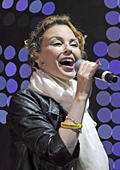 Lifestyle chronics
The singer - clad in a vintage black lace cone-bra dress from the designer - was in the crowd at Paris Couture Week for the golden age of Hollywood-inspired show from the man who will co-style her forthcoming North American tour.

Models were made up in the style of classic screen sirens including Joan Crawford, Marilyn Monroe, Greta Garbo and Rita Hayworth, and took to the catwalk to music punctuated by dialogue clips and film soundtracks of the era.

The range included trench coasts, pinstripe trouser suits, tight corsets, lacy bodices fur coats, mink-trimmed tailored suits and lavish velvet gowns