Tag: Madrid Fashion Week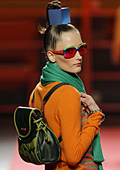 Fashion shows
The 55th edition of Madrid Fashion Week, an event organised by IFEMA, began on Wednesday and will continue until Sunday 5th February. Hall 14.1 at Feria de Madrid hosts the staging of a series of shows organised by the leading names within the world of Spanish fashion, on this occasion under a new name: MERCEDES-BENZ FASHION WEEK MADRID (MBFWM). At this edition, a total of 44 designers will present their collections for Autumn/Winter 2012-2013 on the catwalk, whilst 45 up-and-coming designers will exhibit their latest ideas at the EGO Showroom in CIBELESPACIO, featuring the direct sale of clothing and accessories to members of the public.
World fashion
CIBELES MADRID FASHION WEEK, the grand forum for Spanish design stages its fiftieth edition between 18th and 22nd September 2009 at Feria de Madrid.
Over the last twenty-five years, CIBELES MADRID FASHION WEEK, an event organised by IFEMA, has worked ceaselessly to launch and promote the most outstanding designers of the day, thus helping to boost the profile and unity of Spanish fashion as a whole, resulting in the excellent image that it enjoys today. This work has been made possible by the considerable support that Madrid's institutions have provided for the Fashion Show, especially the initiatives undertaken by the Madrid Regional Government.