Tag: NBU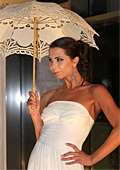 Fashion shows
An impressive fashion show – work of the graduates from "Design and architecture" department, module "Fashion", was presented in Sofia hall "Florimont Expo" on 6 of February.
Under the theme "(R)Evolutions" the fashion graduates demonstrated their creative works – collections of 6 models each, designed and constructed by the students.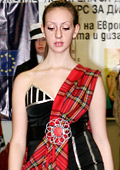 Competitions & awards
"The aim of the contest was to motivate the young people to get to know the traditions and culture in the field of garments and design of the people in the European Union. And to recreate them to fit todays conditions of life and fashion trends", shared the organizers. The participants sent their ideas as fashion sketches and the 15 best ideas received help to develop them and present the clothes in the fashion show. It is curious that most ideas were taken from traditional men's costumes and originally transformed in provocative women's garments.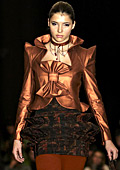 Fashion collections
On 16 December students in fashion in New Bulgarian university showed their creations. The fashion show is a result from the work of students and teachers who prepared the models in the course of several months for this big event. The artistic fantasy and inspiration of the young people, their non-standard ideas were realized very successfully. The fashion show presented the style and methods of education in fashion in the university. The students designed and produced the clothes on their own.

The fashion show was separated in two themes - Winter kaleidoscope and Clothes & armor.