Tag: RADA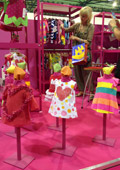 Fashion shows
The International Children's Fashion Fair (Feria Internacional de Moda Infantil or FIMI) is held from 21th of June to 23th of June in Valencia Spain. This is the 77th edition of the show.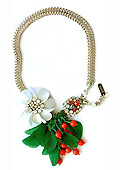 World fashion
For Spring-Summer 2012 take a look at the collection, presented by Rada. The jewels belong to the line "fruits". Green, yellow and orange are the main colors.

Earrings, necklaces, bracelets, pochette, shoes are all embellished by little leafs and fruits, to be always showy chic thanks to summer irony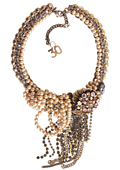 Accessories
Beads, macro strass, brass petals and trickles of burnished chain. A necklace trusses up precious materials, amalgamating them, then lettings them scatter and flow to "dress" femininity according to the style of RADA. This is the exemplar created by Daniela Ravioli's creative flair on occasion of the company's 30th anniversary.
And produced as a limited edition of just 300 pieces, as is fitting for celebratory item.

It was during the 80's that Daniela's creative river flowed into the ocean of suggestions balanced between art and fashion which have distinguished RADA over the years.