Tag: Unique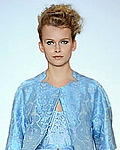 Trends
As London Fashion Week is over, we can now point some key fashion trends for Spring/Summer 2013 in the designer collections.

The combination of black and white is still favourite to most of the designers, but in some collections they combine also with the trendy blue and gray. The combinations are in geometric forms, for example in the models of Antonio Berardi and Peter Pilotto or florals in the collection of the brand Unique.
Accessories

Victoria Unique Fashion House has developed unique neckties in a Microfantasy style that are a suitable gift for Valentine's Day, honoured by all people in love. These neckties are a masterful combination between the classical forms and the colours of neckties with small heart patterns, symbolising the love lovers share between them. The connoisseurs of men's neckties can see and order the unique Valentines only on the Internet.

"You can achieve a real furore and a lasting impression by giving the truest male accessory - a Victoria Unique necktie - as a present", the renowned fashion critic Assoc. Prof. Lubomir Stoikov states.