Tag: challenging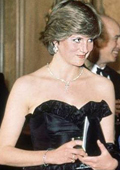 Lifestyle chronics
The scandalous black dress of Princess Diana has been sold at auction for $276,000.

Diana was a style icon before she was even a princess. Many of her most famous looks were sold at auction, including a black gown once dubbed "scandalous".

The taffeta black dress, designer by David and Elizabeth Emanuel was named too sexy for its strapless cleavage-baring neckline. Moreover, the black color was to be worn by royals exclusively at funerals.