Tag: hairdressers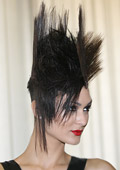 Competitions & awards
XVI Annual edition of the Festival of Coiffure and Beauty was held on October 20, 2013 in Hall 3 of the National Palace of Culture in Sofia, Bulgaria.
Once again the biggest event in the hairdressing industry gathered together many professionals and connoisseurs of beauty from Bulgaria and abroad.
The latest trends in hairstyles for Fall-Winter 2013/2014 were presented - both in the competition, where young hairdressers competed and in the Show of Nations.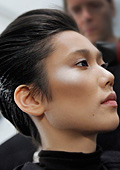 Health & Beauty
The slicked back hairstyle will be the hit of the spring season, according to Spanish media, so grab you gel and get ready to remember the wet hair look.
Just try to avoid the dry, heavily brushed texturing, instead stick to a wet effect.

To achieve the desired "wet look" effect is not necessary to use the whole pack of gel.