Tag: made by hand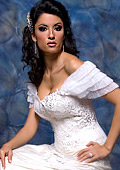 Fashion collections
Summer is the season of weddings. If this wonderful event is coming for you and you still haven't picked your dress we recommend you look through the models of fashion house Odeta.

The dresses made by designers Donka and Valeria Lazarchevi are original and sophisticated, made by hand with perfect production and quality materials.

You can choose different models of corset and skirt and have them made into a whole dress. During the producing of your dress you can change everything you don't like in the model as long as it's possible from a constructive and technological point of view.