Tag: offers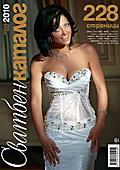 Fashion magazines and books
Emanuela is on the cover of the largest magazine for bridal fashion and wedding services in Bulgaria – Bridal Catalogue.

The new issue contains 228 full color pages with detailed presentation of wedding and official dresses for the spring season and also – fashion suggestions for the prom. Spring is the season that provides all brides with an excellent opportunity to experiment with the colors of the dress and its accessories.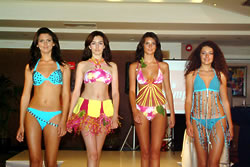 Underwear and Swimwear
Worldwide famous company "Triumph International" got ahead of time and presented to its bulgarian partners and media the newest collection of underwear, swimming suits, swimwear, home wear, nightwear and free-time wear for spring – summer 2006. By manner of the european fashion giants, on 5th august 2005 in Central Hotel Forum, Mrs Dora Black – manager of "Triumph International" (Sofia) and Mr Dirk Muller - production manager of the fashion giant in Munnich, presented to the attendants the newest fashion concept in a showroom, especially organized for the event. The simmingsuits shown at the end of the presentation were unique and a part of them was inspired by the forthcoming 2006 FIFA World Cup.