Tag: oscars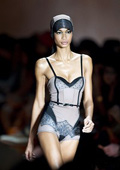 Business news
The designer Alexander McQueen and model Iman are having special place in the "Oscars of fashion," wrote Spanish media.

Like every year the Council of fashion designers will give their awards, known as the "Oscars of fashion".

The event will be held on June 7 at Lincoln Center in New York.
Although is still unknown who will be the lucky ones to go home with the prestigious award, it's already clear what are the names of nominees in the 2010 edition.