Tag: pastel tones
Fashion collections
In Varna, Bulgaria, boutique La Sposa is the fashion center where every modern woman can find her dream dress for a special occasion.
Along with the latest bridal collections in the boutique are already available cocktail collections 2014 by LA SPOSA and Holiday Sona.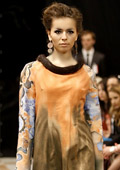 Fashion collections
From 23 to 28 April 2013 many local names and several international designers presented their Fall-Winter 2013/2014 collections during Belarus Fashion Week in the country's capital city Minsk. During the sixth edition of international professional and cultural weeklong event leading Belarusian labels like Boitsik, Fur Garden, Marinich, Tarakanova, Historia Naturalis, Kucherenko, Davidova, Natasha Tsu Ran, Svetlana Todorskaya, Harydavets & Efremova, Lena Tsokalenko, Maria Dubinina, Valeria & Anastasia Aksionovi, Zina Fedunina presented their avant-garde lines.