No more swimsuits in 'Miss World' pageant
It is official! The pageant's organization chairwoman, Julia Morley, has announced that Miss World (founded in 1951) will no longer feature a swimsuit round in their competition.
'The organization has decided to take itself out of the swimsuit world because it isn't the path they're trying to take,' said Chris Wilmer, the national director of Miss World America/Miss United States organization.

'It's not just a beauty contest, it's 'beauty with a purpose'. There didn't seem to be a purpose to have the swimsuit.'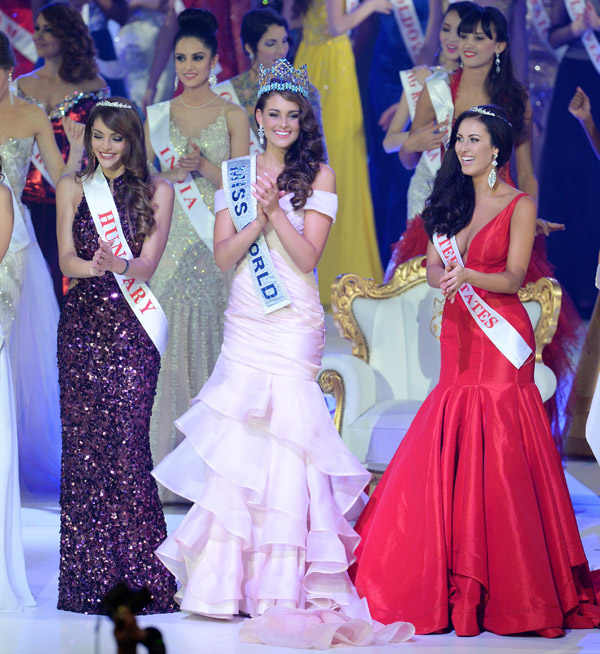 'Miss World should be a spokesperson who can help a community,' Wilmer told ABC News. 'She's more of an ambassador, not a beauty queen. It's more about the outreach and what a woman could do with a title like Miss World.'

'I salute the miss world organization for their efforts to try and modernize,' Wilmer affed. 'Pageantry is an age old industry and I think with Julia getting rid of swimsuit and making it more of a lifestyle competition sends a strong message and I applaud her for it.'


On December 14, Miss South Africa, Rolene Strauss, became Miss World 2014 - that was the last event with a bikini round.


Photo:
Miss World 2014, South African Rolene Strauss (Front-C) flanked by runner-up Miss Hungary Edina Kulcsar (L) and third place Miss United States Elizabeth Safrit (R) receives the applause of the audience and contestants after winning the grand final Miss World 2014 pageant at the Excel London ICC Auditorium in London, Britain, 14 December 2014.
© FACUNDO ARRIZABALAGA/EPA/BGNES


Hits: 6220 | Leave a comment