The beauty of the Bulgarian folklore dances
The Bulgarian folklore dances are unique with their asymmetrical meters, combining 'quick' and 'slow' beats. The traditional Bulgarian music is often described using 'compound meter notation, where the notational meter accents, i.e., the heard beats, can be of different lengths, usually 1, 2, 3, or 4'.
Bulgarian folklore dancers usually use the terms 'quick' and 'slow' instead of a steady meter '1, 2, 3' etc. These dance rhythms may not agree with the rhythms and meters performed by the musicians. That's why in dance instructions, quick and slow beat descriptions, in combination with intuition and careful listening, may be a good approach, though not suitable for performing and notating the music.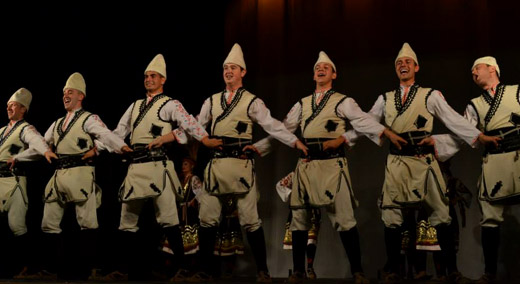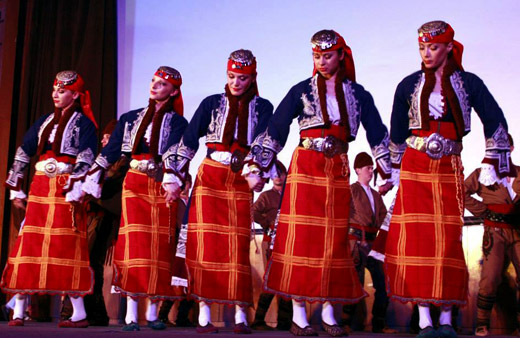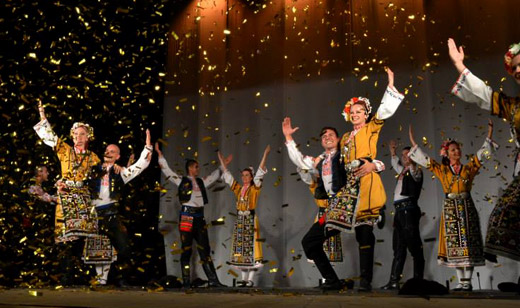 Let's take a look at some traditional Bulgarian folklore dances:


- Trite pati (2/4) - a line dance with rapid feet movement; step rhythm quick-quick-slow

 


- Tropanka (2/4) - a Dobrudzhan dance with swinging and 'pumping' arm motions

 


- Opas (2/4) - a varied dance often done with hands across the chest of the person next to you in the line

 


- Pravo horo (2/4 or 6/8) - it begins with right foot diving step toward the center of from one to many concentric broken circles, traveling ultimately counter clockwise

 


- Shopsko horo (2/4) - a suitable for exhibitions and stage performances dance, often accompanied with bagpipes (Gaidae) and drums (Tupon)

 


- Paydushko horo (2+3, 5/16 or 5,8) - often characterized as a 'limping dance', this dance typically involves two footwork patterns, a 'step hop' and a 'step step'

 


- Rachenica (2+2+3 or 4+3; 7/16) - quick-quick-slow, single or couple dance





- Daychovo horo (4+2+3 or 2+2+2+3; 9/16) - it is a circle dance (most Bulgarian dances are either line or couple dances), and yet it has a leader (most circle dances have no leader)

 


- Gankino horo/Kopanitsa (4+3+4 or 2+2+3+2+2; 11/16) - a line dance with repeating footwork, a hopping step to the right several steps ending with heels together down-step, then back to the left ending with heels together down-step

 


- Dunavsko horo (2/4) - a popular Bulgarian folklore dance from middle northern Bulgaria

 


We believe that Bulgarian folklore dances can help you look and feel young and healthy and that they are not only unique, but also very beautiful!

Enjoy:

 


Photos:
Dancers from the National Folklore Ensemble BULGARE





Hits: 10908 | Leave a comment