World Street Fashion Show on May 24
On May 24 all over the world you can see people dancing Bulgarian dances, dressed in modern clothing. This interesting campaign is supported by media in Bulgaria and all over the world and aims to make popular Bulgarian dances.
The Bulgarian dance is emotion, dialogue, striving for perfection, a burst of energy and mystery. Dancers of Bulgarian dances are healthy and positive people.
Many dance clubs in Bulgaria and abroad, celebrities, Bulgarian embacies all over the world, journalists and all lovers of Bulgarian dances will participate in the World Street Fashion Show on May 24.
You can join the Bulgarian round dance in Sofia and all Bulgarian cities, as well as in Berlin, Copenhagen, Rome, Budapest, Vien, London, Otava, Dubai and other major cities all over the world.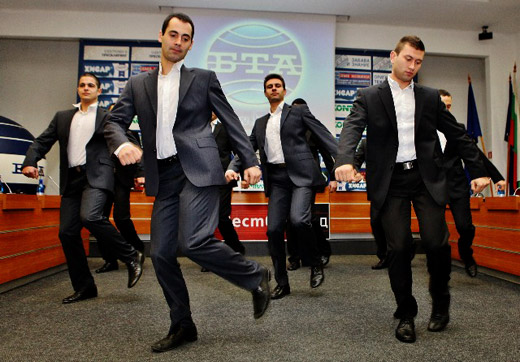 The most modern factory for men's suits in Europe Richmart sent 1 000 men's jackets with a lining with the Bulgarian flag to celebrities in the country and abroad, who will lead the round dance (horo) on May 24 - The Day Of Slavonic Alphabet, Bulgarian Enlightenment and Culture.

You can also join this huge campaign. Post a video how you dance Bulgarian dances with your fashionable clothes and add the video in YouTube with the title I love Bulgarian dances.

Here are some tutorials how to learn Bulgarian dances:
Key steps from Bulgarian folklore dances The Bird Step
Key steps from Bulgarian folklore dances Ruchenitza
Key steps from Bulgarian folklore dances Hands
Key steps from Bulgarian folklore dances The Bouncing Step


Hits: 4263 | Leave a comment