The evolution pant - the ultimate pant for travel, outdoor and every day
After three years of searching for the perfect fabric, it is presented to you the finest, most versatile product yet - The Evolution Pant. A highly-functional pair of pants designed to be the only pants you need for travel, outdoors and everyday. Built with a unique stretch nylon Supplex® fabric, The Evolution Pant is stronger, softer, stain-proof and packed full of travel features to allow you to do more with less!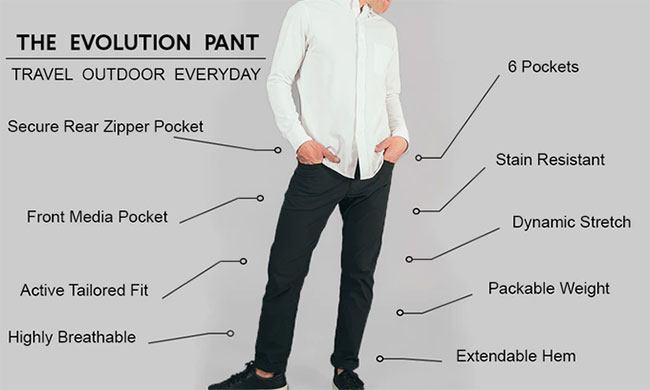 The Evolution Pant is the only pair of pants you need. A pair of pants that can be worn multiple days in a row without washing. A pair of pants that packs small than a t-shirt, moves with the body, and replaces at least three pants in your closet. A pair of pants that dresses up enough to get through any meeting, yet is rugged enough for any outdoor activity. Designed from the yarn up to feel like a fine cotton, but perform like a high-grade nylon. One pant for travel, outdoor, and everyday. The Everyday Pant, Elevated.
The Evolution Pants are stain-proof, water-resistant, durable, packable, and versatile. Making them the ultimate pant for travel, outdoors, or everyday!
The Evolution Pants are packed full of features and meticulously crafted. They have been designed from the fiber up to be the best pants for traveling, outdoor activity, and the best everyday pants on the planet.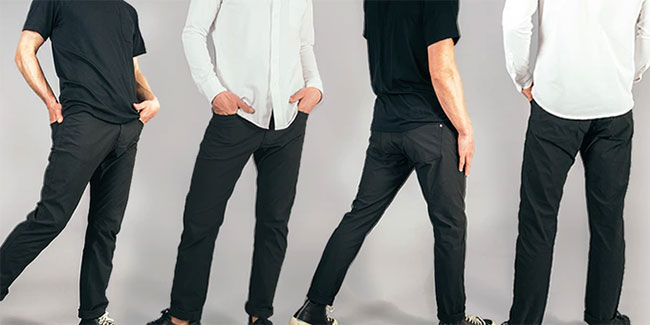 STRETCH GOAL REACHED!
The Evolution Pant is produced in THREE classic colors of your choosing and THREE inseam lengths from Short, Regular and Long. Thanks casting you color votes, sharing and helping make The Evolution Pant a reality!
The key to the Evolution Pant is the nylon Supplex® fabric. Nylon is an incredibly durable fiber used in many products from rock climbing harnesses to parachutes. Supplex® takes the durability of nylon to the next level. The uncommonly strong fibers are air-texturized to make them incredibly soft. Supplex® takes hundreds of these extremely fine, air-texturized nylon fibers and spins them into thick durable yarns. The added fibers cause the yarns themselves to be stronger, but also more dynamic. The resulting fabric is abrasion resistant, ultra-durable, with the soft hand feel of cotton, and the perfect drape and stretch.
Available in:
Color: Charcoal, Navy, and Khaki
Sizes: 28-40
Inseam: Short 30inches, Regular 32 in extendable to 34 in, Long 36 in extendable to 38 in.

www.kickstarter.com


Hits: 13719 | Leave a comment