Fashion World Tokyo - big numbers and conclusions
The show was attracted by 813 exhibitors from 31 countries/regions, 17,103 trade visitors and 7,686 conference attendees in 3 days.
This is a unique Japanese trade show of fashion sourcing, materials and brands exhibits together, combining FASHION WORLD TOKYO and FASHION WORLD TOKYO - FACTORY. The only trade show which demonstrates the products satisfying all needs for fashion due to covering the whole fashion industry. FASHION WORLD TOKYO consists of 4 separate shows divided by themed categories of fashion items (FASHION WEAR EXPO, BAG EXPO, FASHION JEWELLERY EXPO and SHOES EXPO) and FASHION WORLD TOKYO FACTORY, a place where popular fashion garments/textiles companies and fashion sourcing manufacturers are gathering. The on-site meeting provides good business opportunities for exhibitors and visitors. It is a must-attend show to catch up with Japanese fashion market that became loved in Asia. It has also become a one-stop venue for fashion business as it covers whole fashion supply chain.
The numbers of exhibitors and visitors from overseas have been increased and the show has become more and more international since the show launched in 2013. FASHION WORLD TOKYO is well-known as an international business platform in Japan. It is the best gateway for international exhibitors to meet business buyers/partners not only from Japan, but also from Asia and other areas of the world. With an increasing number of international visitors, the show is regarded as the Asian business hub of the fashion industry. FASHION WORLD TOKYO has been chosen by many companies as the best business platform to break into the Japanese fashion market, the world's 3rd biggest market. This can be proved by the fact that over a half of the total are international exhibitors. The future editions are expected to be more and more international and create more global business opportunities.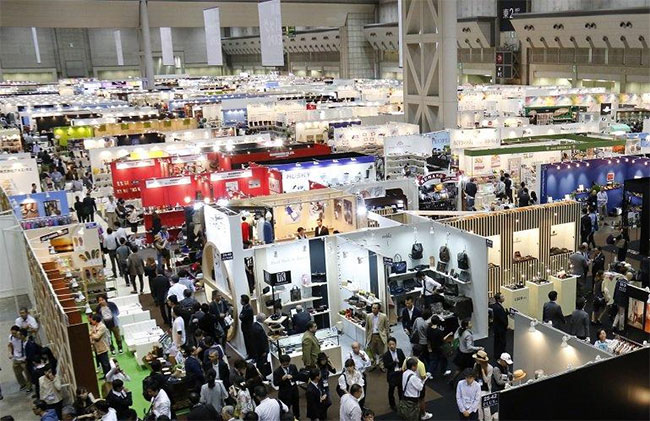 There were a lot of Asian clothing manufacturers at FASHION WORLD TOKYO -FACTORY- 2019 [MARCH] showcasing their countries/regions' latest products and advanced technologies. Various exhibitors from Bangladesh, China, Hong Kong, India, Japan, Nepal, Pakistan, Taiwan, Vietnam and etc . have attended! They drew great attention from Japanese buyers/importers/retailers and also visitors from other countries. As this show gathered well experienced factories well-known for its low cost and high quality, flexibility in order size and skilled craftsmanship, more and more visitors attended the show to source and compare their new partners. FASHION WORLD TOKYO -FACTORY- became the show where world's leading apparel/textile factories chose to exhibit to expand their business.
FASHION WORLD TOKYO 2019 [MARCH] was notable due to gathering many European brands to showcase their latest products. Every year, more and more new Japanese and international pavilions bring additional excitement to the show ground. At 2019 March show, Georgia Pavilion (APS) became a new comer. Many countries/regions pavilions will be expected to appear in 2019 October and 2020 April show.
As Japan's largest fashion trade show, regional municipalities' pavilions from all over Japan gathered. Made in Japan collections became one of the highlights of the show. Especially for international visitors, "Made in Japan" has drawn more and more world attention indeed. For example, one company headquartered in Okayama prefecture presented their "cotton" from with unique texture for jeans. Another feature was "Designers' Gate", where emerging Japanese designers gather. Visitors were amazed by the up-andcoming designs/items made by enthusiastic designers.
A matching system which has been introduced since 2017, enables both exhibitors and visitors make appointments. Show Management has created "Business Matching Service" to have productive business meetings between exhibitors and visitors on site. "Business Matching Service" produced 1,029 meetings during the March 2019 show period. The service helped visitors a lot as it picked up exhibitors that impressed them by listening to their needs and also by a guided tour approach. Since it is extremely difficult to view every single exhibitor in details during the show, the service was highly appreciated by many buyers. Some of those meetings ended up with on-site ordering, and some went deeply up to widening the business chances for many at FASHION WORLD TOKYO 2019 (MARCH).
The next edition of Fashion World Tokyo will be from 2nd to 4th of October, 2019!

Hits: 8661 | Leave a comment