Barcelona Fashion Week 2010
Creativity and innovation are the concepts that inspire 080 Barcelona Fashion, without forgetting the importance of the market and the need to give fashion a commercial outlet.

080 Barcelona Fashion is committed to the "culture of fashion" in the widest sense of the term and aims to be much more than just a fashion show. For this sixth edition, a series of parallel activities and round-table debates have been organised.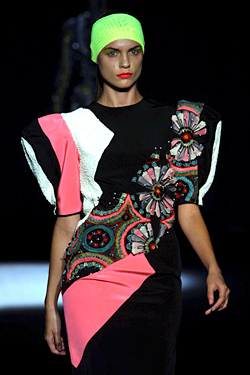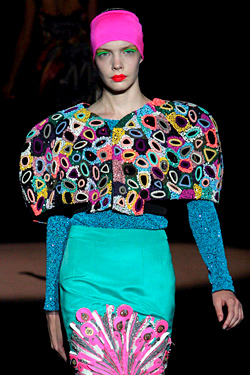 In addition to local talent, 080 Barcelona invited five rising stars from across the world to show here this season: India's Manish Arora, Greece's Yiorgos Eleftheriades, and three designers from South Korea: Juun.J, Songzio and Lee Jean Youn, who won last year's Mango Fashion Awards.

"I've got two days here after this show, and that's my summer vacation," said Juun.J, who titled his Spring menswear collection "Flap" because the airy pieces make him think of birds' wings.
Eleftheriades took the occasion to show his draped women's looks alongside a selection of his new menswear. And Arora managed to party till dawn every night and still wow the crowd with his Art Deco kaleidoscope pieces dripping with Indian beading and embroidery.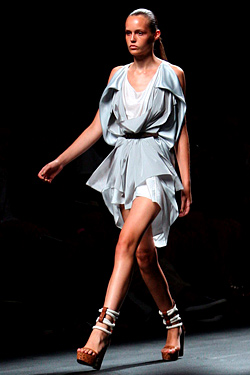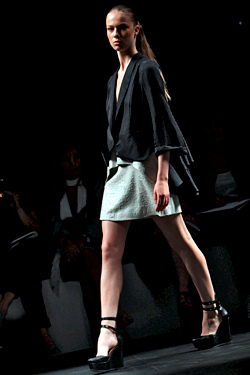 Photos:

1. - 2. Models take to the catwalk with a proposal of Indian designer Manish Arora during the 080 Barcelona Fashion Week in downtown Barcelona, Catalonia, northeastern Spain, 13 July 2010. EPA/ALBERT OLIVE
3. - 4. Models of the Greek designer Yiorgos Eleftheriades, presented during the 080 Barcelona Fashion Week in Barcelona, Spain, 14 July 2010. EPA/ALBERT OLIVE
Hits: 15487 | Leave a comment