Tag: 2006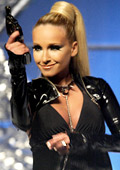 Competitions & awards
Albena Aleksandrova won for the 3rd time Golden needle prize awarded by the Bulgarian Fashion Academy.

This was the conclusion when the direct electronic voting of the 36 jury members was closed.

The other winners are:

"Zebra" - for the fashion house of the year; Angel Tsvetanov – for the fashion photographer of the year; Kiril Chalakov – for the make-up of the year and the pop singer Irina Florin – for the most successful debut of the 2006th.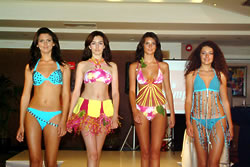 Underwear and Swimwear
Worldwide famous company "Triumph International" got ahead of time and presented to its bulgarian partners and media the newest collection of underwear, swimming suits, swimwear, home wear, nightwear and free-time wear for spring – summer 2006. By manner of the european fashion giants, on 5th august 2005 in Central Hotel Forum, Mrs Dora Black – manager of "Triumph International" (Sofia) and Mr Dirk Muller - production manager of the fashion giant in Munnich, presented to the attendants the newest fashion concept in a showroom, especially organized for the event. The simmingsuits shown at the end of the presentation were unique and a part of them was inspired by the forthcoming 2006 FIFA World Cup.