Tag: Golden needle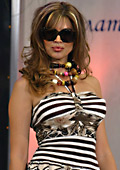 Fashion shows

The studio of the bTV fashion show "Mirrors" turned into a glorious stage where the most trendy solutions for this summer season were presented. They were designed by many and famous Bulgarian and foreign brands.

This fresh and colorful fashion show was a part of the "Golden needle" gala-eve held by the Bulgarian Fashion Academy.

In a couple of articles we will introduce you to some of the most interesting fashion trends.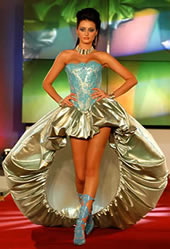 Competitions & awards
On great interest and very splendid and stylish passed by the official ceremony of 10th anniversary Bulgarian Fashion Academy Awards Zlatna Igla 2003 /Golden Needle 2003/. The gala-evening for voting and handing the most prestigious fashion awards in Bulgaria was on March 13th, 2004 in Inter Expo Center. The Fashion Academy /launched in 1993 in Paris by Donka Ganeva and Lubomir Stoykov/ proof that the most impartial assessment of the fashion design achievements belongs to the Fourth power - of the fashion journalists. And the winners are: Designer of the year and winner of Zlatna igla 2003 for personal contribution to the Bulgarian fashion design became Virginia Zdravkova /Virginia atelier/, Fashion house of the year – Agressia /manager Maja Asenova/, Fashion photographer – Valentin Mechanov and winner of the award for total contribution to the Bulgarian design - Bulgarian Fashion Forum in the face of its chairman Ivan Chalakov.

Competitions & awards
On its session on Friday the Academy of fashion voted the nominations for the "Golden needle" award for the year 2001. The award for overall contribution to Bulgarian fashion and the "Golden needle" in this category is adjudged to the famous Bulgarian designer Daria Manchenko. She has graduated the Higher school of fashion stylistics, haute couture fashion and costume "Arman Gojel" in Paris and more than a quarter of a century she works in the field of fashion design.