Tag: Lviv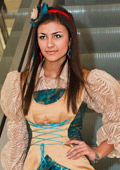 Fashion shows
From October 28 to 31, 2010, Lviv Fashion Week took place in Lviv. Kenzo Takada was the guest of honour of the sixth season. It was the first visit of Mr.Kenzo to Ukraine at the invitation of the Lviv Fashion Week organizers.

Major couturiers along with young budding designers from Ukraine, Belarus, Georgia and Armenia presented their new spring/summer 2011 collections for 4 days.
Fashion shows
Lviv Fashion Week is one of the leading international designer showcases in Eastern Europe. It offers a high-quality ground for fashionable defiles and runway shows. Format of Lviv Fashion Week is based on prêt-à-porter and prêt-à-porter de luxe collections. Designers present seasonable collections in multiple daily runway shows and exhibition showrooms. Fashion shows are accompanied by art, photo and jewellery exhibitions. More than 3500 people visit Lviv Fashion Week during each day.