Tag: Venezuela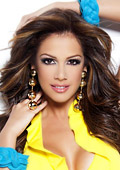 Competitions & awards
Twenty three year old Alyz Henrich from Venezuela is the new Miss Earth. The final ceremony was held on December 7, 2013 at Versailles Palace, Philippines.
This is a double victory for Venezuela this year after María Gabriela Isler won Miss Universe 2013 title.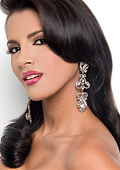 Competitions & awards
This evening in London took place the contest Miss World 2011, which had a record number of participants - 122. The crown of Miss World 2011 won the 21-year old beauty from Venezuela Ivian Lunasol Sarcos Colmenares, 179 cm. Her runner-ups are from the Philippines - Gwendoline RUAIS (2nd place) and Puerto Rico - Amanda PEREZ (3rd place). The top seven finalists were from Korea, Venezuela, England, Philippines, Puerto Rico, South Africa and Scotland.

The story of the beauty from Venezuela Ivian Lunasol Sarcos Colmenares is like a fairy tale. At the age of 8 years she became an orphan, when her parents died. Ivian was raised by the nuns in a convent in Tachira and was named Sora Ivian.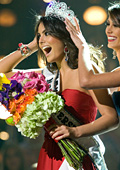 Competitions & awards
Eighty three models took part in the contest for the prestigious crown and the title Miss Universe 2010, among which 21 from Latin America. On Thursday were selected 15 semi finalists. Unfortunately, there was no Bulgarian participant in the contest this time.

The Mexican Jimena Navarrete was selected to become Miss Universe 2010.

Navarrete surprised everyone, as the expectations were that the crown will go to the representative of Ireland, Venezuela or USA.