Tag: sex bomb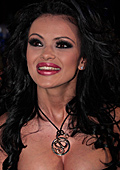 Lifestyle chronics
Pop-folk singer Maria defeated the controversial Nikoleta Lozanova and won the prize "Sex bomb of the year", contest organized by VIP Communications in the metropolitan Night Flight club.

The award was presented by the brand-manager of Marilyn Slims - Milen Shterev.

The folk star was dressed in a tempting gown, which was lace from the waist down. Her husband - Dimitar, was also there.
Competitions & awards
The channel TV2 from Island and its leader Gudjon Helgason are in Bulgaria to shoot the most sexy event - "Night of the sex bombs". Their interest is dictated mostly by the Island beauty Asdis Ran, who lives in Bulgaria because of the football engagements of her husband Gardar. The star from Island is nominated in the category "The most sexy blond" for 2009.