Cooperation agreement between mtex+ Chemnitz and SALTEX Dornbirn
Cooperation agreement between mtex+ Chemnitz and SALTEX Dornbirn: The association of the North-East German Textile and Clothing Industry will be present at SALTEX 2018 with a joint booth of its members.
Leading associations and industrial companies confirmed once more their participation at the upcoming SALTEX September 12 - 13, 2018
Global Fiber Congress Dornbirn-GFC and SALTEX organize a joint evening event Dornbirn, February 20, 2018 – Eight companies of the Smart Textiles Platform from the Austrian region Vorarlberg will likely exhibit at the 7th International Fair for Technical Textiles mtex+ 29/30 May 2018 in Chemnitz, Germany.
"We already took part at the mtex+ several times with a joint booth and we would like to expand the interesting contacts we made", explains Smart-Textiles coordinator G?nter Grabher: "We are glad that the trade fair organizers from Chemnitz and Dornbirn, Austria, officially agreed upon a cooperation between mtex+ and SALTEX." Key element of the agreement is the mutual accordance of advantageous conditions for companies from both regions Vorarlberg and East Germany to participate at the shows. "From our perspective the profiles of both events are fully complementary. They both take place in the center of innovative textile regions. Interesting is also the fact that mtex+ and the exhibition for lightweight construction LiMA take place at the same time", explains Dr.-Ing. Jenz Otto, Managing Director of the association for the North East German Textile and Clothing Industry (Verband der Nord-Ostdeutschen Textil- und Bekleidungsindustrie e.V. - vti), Chemnitz, Germany. He announces that several member companies of the vti will showcase for the first time their novelties on a joint booth at SALTEX.
At the second edition of SALTEX leading associations like the Confederation of the German Textile and Fashion Industry as well as the industry association ivgt for technical textiles again confirmed their participation. Further industry enterprises like Alge Elastic, Getzner or G?th & Wolf registered as exhibitors.
At the upcoming SALTEX representatives of research institutions will get the opportunity to show their innovative exhibits on a spacious separate area.
After the experience of the successful premiere in 2016 the association Carbon Composites (CCeV) based in Augsburg, Germany decided to participate again at SALTEX upcoming September. CCeV is a group of companies and research facilities that covers the entire value chain of high-performance fiber composites in the DACH region. "Last but not least a trade fair like SALTEX is very interesting for us due to the geographical proximity. We are primarily cross-linked in the DACH region, consider ourselves as an innovation driver and seek the dialogue with interesting partners from hybrid lightweight construction. Therefore we feel that the trade segment ?High Performance Materials` is the right place for us", comments Alexander Gundling, managing director Carbon Composites e.V. the renewed participation.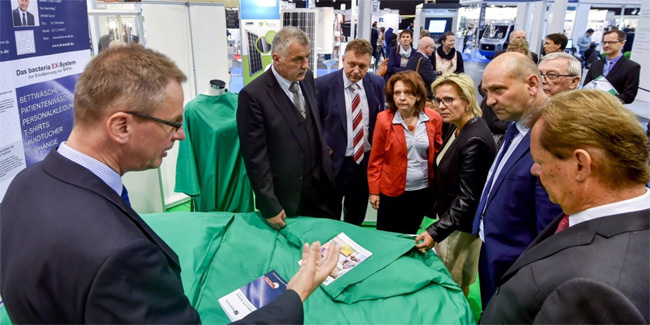 The second edition of SALTEX puts smart textiles into the spotlight. Potential users from construction, mobility, medical or sports and lifestyle as well as smart textile developers shall start a dialogue. Second core topic is the development, production and application of textile high-performance materials (HPM). Integral link and visitor magnet is the Smart Textiles Symposium, that takes place simultaneously with the exhibition SALTEX since 2016. Visits at companies located in Vorarlberg will round up the events program.

SALTEX (September 12-13, 2018) will take place simultaneously with the 57. Global Fiber Congress, Dornbirn-GFC (September 12 -14, 2018). The traditional Mayor's evening will be co-hosted by both organizers SALTEX and Dornbirn-GFC as bilateral networking event.


Hits: 6609 | Leave a comment