Metropolitan Museum of Art opened "The Model as Muse: Embodying Fashion" exhibition
The Model as Muse: Embodying Fashion, the spring 2009 exhibition organized by The Costume Institute of The Metropolitan Museum of Art, explores the reciprocal relationship between high fashion and evolving ideals of beauty, focusing on iconic fashion models in the latter half of the 20th century and their roles in projecting, and sometimes inspiring, the fashion of their respective eras. The exhibition is on view at the Metropolitan from May 6 through August 9, 2009.
The exhibition is made possible by Marc Jacobs.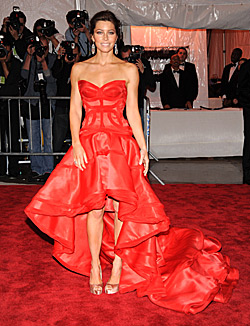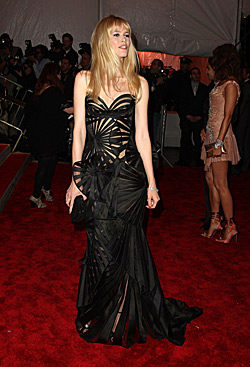 To celebrate the opening of the exhibition, the Museum's Costume Institute Gala Benefit took place on Monday, May 4, 2009. Marc Jacobs served as Honorary Chair of the Gala. Co-Chairs were Kate Moss; Justin Timberlake; and Anna Wintour, Editor-in-Chief of Vogue. This fundraising event is The Costume Institute's main source of annual funding for exhibitions, acquisitions, and capital improvements.
The exhibition features approximately 80 masterworks of haute couture and ready-to-wear. Fashion editorial, advertising, and runway photography plus large- scale projections from feature films are used throughout the galleries to contextualize the fashion zeitgeist.
Exhibition Overview
The exhibition, in the Museum's second-floor Tisch Galleries, explores how models transmit cultural change via photographs that document turning points in society and design. With the post-WWII resurgence of the American fashion and advertising industries, the launch of Dior's New Look and a proliferation of model agencies, an environment in which high-fashion models with celebrated personalities and distinctive identities emerged. Lisa Fonssagrives, Dovima, Suzy Parker, Sunny Harnett, and Dorian Leigh personified this Golden Age of Haute Couture. Photographers such as Irving Penn, Richard Avedon, and Cecil Beaton portrayed the new ideal of feminine artifice. Daywear from Christian Dior and eveningwear from Charles James evoke the mood of the time, and in some cases, recreate scenes from important photographs.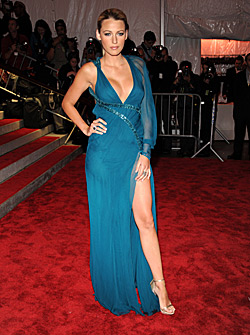 A large gallery inspired by William Klein's 1966 film Qui etes-vous, Polly Maggoo? evokes the Sixties "Youthquake" with Bernard and Francois Baschet's metallic dresses from the movie and ensembles from Paco Rabanne, Pierre Cardin, Andre Courreges, and Rudi Gernreich, designers who heralded the transformation from a sophisticated to a youthful ideal with Jean Shrimpton, Peggy Moffitt, Veruschka, and Twiggy. The next gallery focuses on the 1970s, when athletic, All-American models such as Lisa Taylor and Jerry Hall enlivened the simple, unstructured goddess dresses of Halston, and an emerging group of ethnic beauties like Mounia and Kirat presented the haute bohemian looks of Yves Saint Laurent.
In the 1980s, supermodels expressed an idealized glamour, dissolving boundaries between runway, editorial, and advertising work. Naomi Campbell, Linda Evangelista, and Christy Turlington emerged as the "Trinity" appearing in global campaigns for designer brands seeking to bolster their identities. These models could morph into a different persona at each photo shoot, and still manage to convey their priceless, individual distinction.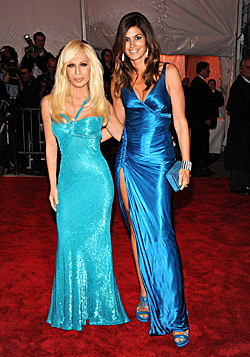 By the 1990s, grunge and street style led to a radical shift from glamorous beauty to the rebel chic of Kate Moss, much as Twiggy supplanted Jean Shrimpton in the '60s. The exhibition's presentation of the minimalism of Donna Karan, Helmut Lang, and Prada that immediately followed shows how models of this era became an anonymous cadre of replicated perfection, allowing the clothing to supersede all. A coda to the exhibition features the Richard Prince and Marc Jacobs collaboration of masked, anonymous nurses (Stephanie Seymour and Natalia Vodianova) in Louis Vuitton, versus selections from John Galliano's 2007 supermodel-fueled runway show in Versailles for the 60th anniversary of Christian Dior.

Designers in the exhibition include Giorgio Armani, Cristobal Balenciaga, Pierre Cardin, Karl Lagerfeld for Chanel, Andre Courreges, Christian Dior, John Galliano for Christian Dior, Rudi Gernreich, Halston, Marc Jacobs for Perry Ellis and Louis Vuitton, Charles James, Donna Karan, Calvin Klein, Helmut Lang, Ralph Lauren, Prada, Paco Rabanne, Yves Saint Laurent, Giorgio di Sant'Angelo, and Gianni Versace.

Iconic models featured include Nadja Auermann, Naomi Campbell, Janice Dickinson, Dovima, Linda Evangelista, Lisa Fonssagrives, Jerry Hall, Shalom Harlow, Sunny Harnett, Lauren Hutton, Iman, Dorian Leigh, Donyale Luna, Peggy Moffitt, Kate Moss, Suzy Parker, Jean Shrimpton, Christy Turlington, Twiggy, Amber Valletta, and Veruschka, among others.

Photographers whose images capture the mood of fashion via their subjects, and whose work is in the exhibition, include Richard Avedon, David Bailey, Cecil Beaton, Gilles Bensimon, William Claxton, Patrick Demarchelier, Arthur Elgort, Hiro, William Klein, Annie Leibovitz, Peter Lindbergh, Steven Meisel, Helmut Newton, Norman Parkinson, Irving Penn, Gosta Peterson, Franco Rubartelli, Francesco Scavullo, Melvin Sokolsky, Bert Stern, Juergen Teller, Deborah Turbeville, Ellen von Unwerth, and Chris Von Wangenheim.

Credits and Related Programs
The exhibition is organized by Harold Koda, Curator in Charge of The Costume Institute, and Kohle Yohannan, guest co-curator, and a cultural historian. John Myhre, an Academy Award-winning production designer and art director for films including Dreamgirls, Chicago, and Memoirs of a Geisha, serves as creative consultant. Heads and wigs are created and styled by Julien d'Ys and the Tamaris team. The graphic design of the exhibition is by Connie Norkin, and the lighting is by Clint Collier and Richard Lichte, all of the museum's Design Department.

The design for the 2009 Costume Institute Gala Benefit is created by John Myhre with Raul Avila.

A book, The Model as Muse: Embodying Fashion, written by Harold Koda and Kohle Yohannan, accompanies the exhibition. It is published by The Metropolitan Museum of Art and distributed by Yale University Press – $50 for the hardcover; and, at Met locations (including metmuseum.org), $35 for a paperback edition.

A series of related films accompanies the exhibition on Friday evenings in July – with introductory discussions beginning at 5:30 p.m. and screenings at 6:00 p.m. including Funny Face (1957) on July 10, Qui etes-vous, Polly Maggoo? (1966) on July 17, and Unzipped (1995) on July 24.

A T-shirt designed by Marc Jacobs on the occasion of the exhibition is available in red or fuchsia in the Museum's on-site shops and www.metmuseum.org for $35.

Photos:

1. Jessica Biel
2. Claudia Schiffer
3. Gisele Bundchen
4. Blake Lively
5. Donatela Versace and Sindy Krauford


Hits: 36297 | Leave a comment